This post may contain affiliate links. We may earn money or products from the highlighted keywords or companies or banners mentioned in this post.
The Zhangye Danxia Landscape — Red Rocks and Rainbow Ridges
Zhangye's Danxia landscape has lots of precipitous red cliffs, most of which are several hundred meters high, and multicolored ridges of weathered strata, sometimes stretching to the horizon. These formations, sometimes smooth sometimes sharp, stand  out against the greens or grays of the plains , looking grand and magnificent, vigorous and virile.
Across the Danxia landscape zone, a kaleidoscope of numerous red rocky outcrops resemble weird and wonderful shapes like castles, cones, towers ; as well as humans, creatures, birds and beasts. Their peaks peeping through the mist and clouds, produce mirage-like scenery of fantastic mountains and pavilions.
The Guardian featured Zhangye's Danxia Landforms in pictures, and called this fantastic landscape "China's rainbow mountains".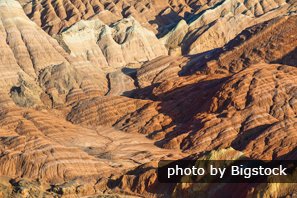 Zhangye 's Danxia was formed by the erosion of red sandstone, forming isolated peaks and steep stratified outcrops. Its special geological structure, combined with long-term desert conditions , freeze-thaw peeling, and wind and water erosion gave rise to its present appearance.
Geologists believe that Danxia topography is formed by folding of layered oceanic crust. Exposed slanting rock layers have different colors, textures, shapes, sizes, and patterns. The combination of differences in density and erosion create towering peaks, cave holes, and stone halls.
Getting to the Viewing Platforms Inside the Park
The Danxia national park is located close to the city of Zhangye — about 30 minutes west by car, in northwestern China's Gansu Province.
There are sightseeing cars available within the national park, where other tourist buses are not allowed to go. The distance between the four viewing platforms is around eight kilometers (5 miles), and it takes about 2 hours to finish the whole trip when taking the sightseeing cars.
The first viewing platform is the nearest and best viewing platform, 10 minutes' walk from the entrance.
The second viewing platform has it s base about 10 minutes' walk from the premier viewing platform, but it takes a lot of effort to get to the top. Being the highest viewing platform, with 666 steps, which require about 30 minutes' climbing, a panorama of the scenic area can be enjoyed.
The third viewing platform allows a view of the famous 'seven-color fan'.
The fourth viewing platform is the largest viewing platform. It is on a ridge which runs from east to west. Standing on the ridge and looking south you can feast your eyes on the variegated colors of Qicai Shan. It is the perfect place for catching pictures of a sunrise or sunset.
The Best Time to Visit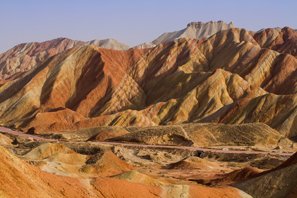 The best time to visit Zhangye is from June to September when the weather is comfortable, and the combination of strong sun and a little rain brings out the colors more. The rest of the year is very dry.  Zhangye is well below freezing and windy in winter — not recommended.
It is best to visit in the morning and at dusk, especially at sunset, when the colors change continuously, showing yellow and red layers covered by a light gray layer.
The rocky bands are well defined with c olorful stripes, and, if it rains the day before, this color will be more gorgeous.
Try not to go when it is cloudy or raining, as only when there is sunshine will these mountains show you their gorgeous colors.
Sunset time: 7:30 pm in spring and autumn ; 8:00 pm in summer
Our local guide knows the best times, and will arrange your tour to make sure you get the most beautiful scenes.
Danxia National Geological Park VS Binggou Danxia Park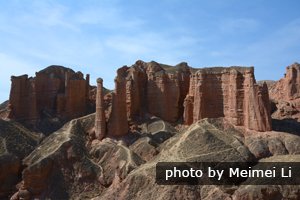 Binggou Danxia Park
There is another Danxia park in Zhangye — Binggou (Ice Valley) Danxia Park, which is a bit farther from Zhangye City (1 hour) than the national geological park.
Bingou has steep rocks, with fewer less-appealing colors
Danxia Geological National Park is the choice of most travelers.
How to Travel to Zhangye
Zhangye is a small city in the Gansu corridor, passage to the remote west of China, so access is limited. The best way to travel to Zhangye is to go to Lanzhou first and then travel to Zhangye from Lanzhou-capital of Gansu Province by air or train . Our travel advisors know how to combine Zhangye and your other destinations in the best way.
By Air
Zhangye has a small airport about 15km (10 miles) southeast of the city, with  limited flights from Xi'an (1 afternoon flight daily) and Lanzhou. There are no direct flights to Zhangye from other big cities.
Lanzhou has direct flights from China's major cities. There are five flights from Lanzhou to Zhangye each day. The ticket price is about 800–900 yuan (130–145 USD). It is a one-hour journey.
By Train
By train is half the price or less, but two or three times the time.
There are direct services to Zhangye from e.g. Beijing (18 to 29 hours), Xi'an (11 to 20 hours), and Chongqing (24 to 29 hours).
You might choose to make a stop in Lanzhou, especially if exploring the Silk Road out west. 32 trains run from Lanzhou to Zhangye (6 hours by ordinary train, 3 hours high-speed). The 9 high-speed services leave from Lanzhou West Station (not Lanzhou Station), and second class is 150 yuan (24 USD).
What to Wear
Take a coat even in summer to wear in the morning and in the evening, as the temperature drops rapidly at night. A face mask or scarf will help protect against the strong, dry and dusty wind. Wear a hat, sunscreen and good walking shoes. Shoes with low-cut uppers are not suggested as there is sandy soil.
Remember to take water because there are no shops in the more remote Danxia areas.
Other Worthwhile Attractions in Zhangye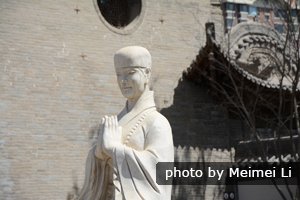 Great Buddha Temple in Zhangye
Great Buddha Temple is an old temple from the Western Xia Dynasty, over 1,000 years ago . It has China's largest indoor reclining Buddha. The Great Buddha's finger alone can accommodate a sleeping person. The statue's ears are 2 meters long and big enough to carry eight people. It is made of soil and wood. It measures 34.5 meters long and 7.5 meters wide.
Mati Temple has 500 grottoes with historically and artistically valuable Buddhist fugures.